Carrie is a 3rd generation owner at Phillips. She got into the lighting business as a University of Oregon student in the early 90's and decided it was the right path to join her family's business. Almost 25 years later, Carrie continues to work with clients & customers on lighting projects large and small, providing help with overall design, controls & fixture selection. She also spends much of her time behind the scenes running the company and selecting & buying new products for the showroom. She feels the responsibility to keep the store on the leading edge of the residential lighting industry, giving shoppers the best experience and products available. Carrie was a 2016 recipient of the Retailer Luminary award by Enlightenment Magazine. The award honors individuals in the residential lighting industry who have been nominated by their peers for leading by example, standing out in their field, and inspiring others.
Favorite activities: Carrie spends a lot of her off time running around with the many activities of her two busy kids. She also has devoted a lot of time to pursuing her art. She is an avid drawer and painter, and has recently had work displayed in her first gallery show!
Chuck is a second generation owner at Phillips. He and Karen joined the company in 1988. He spent his earlier career in corporate real estate and construction management. Over the past three decades he has seen the store through many changes. Besides the daily work of running the business he is a resident jack-of-all-trades, taking on lamp and fixture restoration projects as well as being the go-to guy when fielding technical questions!
Favorite activities: Chuck is an avid lifelong golfer and loves to play as much as he can fit in to his busy schedule. He's a skilled craftsman and has always had an interest in woodworking, completing many construction projects over the years. Chuck also has almost expert-level skills in barbecue and charcuterie. He cooks up a mean brisket!
Karen is a second generation owner of Phillips Lighting. Her parents started the business back in 1947 when she was a small girl. After many years away from Modesto, she and her husband Chuck joined the family business in 1988. Before returning to Phillips she established an interior design business as well as a non-profit organization. Since that time she has continued the company in the spirit of her parents: be honest, treat employees and customers with respect and provide quality products and good service. This formula has kept the business going for almost 70 years!
Favorite activities: Karen loves spending grandma time with her 7 grandchildren whenever she can. She recently has re-discovered her green thumb finding success with the Square Foot Gardening method. Karen is a lifelong maker and crafter and enjoys making messes with various sewing, weaving and soapmaking projects.
Kathy is Operations Manager at Phillips and has worked for the company in many capacities over the past 29 years, including warehouse, sales & purchasing. "I have always enjoyed the family atmosphere here at Phillips. Over the years I've learned and grown with the business and have had the opportunity to help many, many customers. It's satisfying to see a smile on a customer's face after you've helped them.
Favorite activities: I've just raised two children and now have the freedom to pursue more hobbies! I enjoy nature photography, traveling and spending time with family and friends."
Rosa has been with Phillips for over 10 years. She loves working with customers and enjoys helping them find the best lighting solutions for their homes. Rosa always provides her customers with friendly and professional customer service.
Favorite activities: When she's not working Rosa enjoys hanging out with her family and friends, traveling and eating out.
Marsha has been in sales at Phillips for over 14 years. She has amassed a deep knowledge about lighting fixtures and design over the years. Coming from a home furnishings background, she also has developed a great eye for interior design, which helps her guide her customers and clients towards finding the best selections for their projects. "I love working with all of my customers. Lighting can be both a joy and a challenge. I love hearing from my customers who come back and share how great their projects turned out."
Favorite Activities: Marsha loves spending quality time with her two grandchildren.
Sarah is the Purchasing Manager at Phillips and has been with the company for 15 years. She has also worked in sales, which has helped her have a deeper knowledge in her current position, which involves working closely with our lighting vendors and reps. She is often the friendly voice you hear answer when you call on the phone, since, when Sarah is working, the phone rarely gets past 2 rings! "The thing that I love most is working for a family owned business, being a part of the company's long history, often helping customers who have shopped with us for decades. I enjoy the fact that I continue to learn new things all the time, but at the end of the day I love the people I work for and with."
Favorite activities: I spend a lot of time with my family, which includes my two small daughters. We love to travel and I enjoy reading when I have time! I also love to bake and have been working on my cooking skills, too!
Kate has worked at Phillips for 15 years. Her position has changed at the store over the years, but she is currently manages a very busy warehouse with all of the shipping, receiving and fulfilling customer orders. "I love working for a small business! It's great to go to work and feel like you're working with family and friends! And it's fun to be able to show customers unique items that they may not see in other stores."
Favorite activities: Camping, hiking, cycling, walking dogs, yard sale-ing, reading & taking naps.
Jose is Phillips' Merchandising Manager. He stages and puts together all of the store's displays and makes the place look great. It's a big job; fixtures and accessories are always changing, selling and moving around the store. Many, many new products come and go through the store every month, so there is never a shortage of work to be done!
Favorite activities: Jose loves taking much deserved vacation time traveling to interesting and inspiring places near and far. He also loves spending time with his family and friends.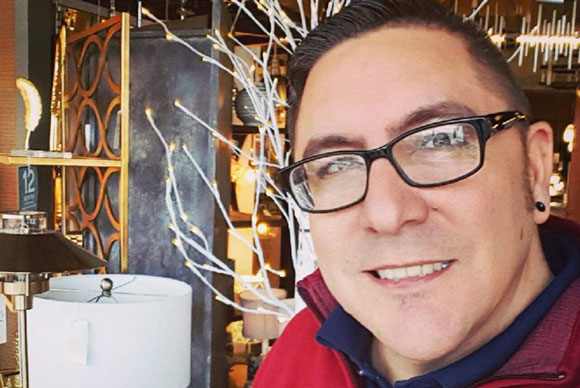 Nic has worked in the interior design & home décor industry for over 10 years. He has spent time on both the retail side in several different home furnishing stores, and on the manufacturing side of interior design with a high-end company in the Valley. Nic has been working hard learning everything he can about lighting and ceiling fans; even though he's the newest member of the team, don't let that worry you! His attention to detail and pleasant customer service will ensure an enjoyable shopping experience. As the tech junkie on the team, whole house Wi-Fi systems and phone app-based fan & lighting controls have quickly become his specialty.
Favorite activities: When not at work, Nic spends most of his days off with his 4 children. A huge fan of music, you can find Nic attending or producing concerts of all genres.